Clock owners certainly think big, especially those that are impassioned with cuckoo clocks.
At the recent York Pennsylvania NAWCC Mid Eastern regionals in November, Jeff Richards, of Antique Cuckoo Clocks, introduced me to the fabulous craft and artistry of black forest clocks.
What are Black Forest Clocks?
The
Black Forest
is a wooded mountain range in southwestern Germany. Since the early 18th century,
Cuckoo Clocks
and woodcarving have been the symbol and tradition of this area.
I never paid much attention to Cuckoo Clocks due to their modern mass produced abundance and current trends for quartz mechanisms.  But after what I saw at the regionals in York – nothing mass produced or modern, I was impressed.
What captured my attention was the beauty and variety of designs, and the extraordinary woodwork.  In contrast to the modern examples, these pre-modern showpieces (vintage and antique) are without a doubt works of art, imagination and virtuosity.
Exploring these treasures more, I found that several black forest clock partisans have taken them to a grander scale – in a quest to make the biggest cuckoo clock in the world. You'll need to decide which one is the biggest, since there seems to be some controversy waiting on the Guinness Book of World Records to pick one.
Triberg, Germany.   With a mechanism 14.7 ft by 14.7 ft (4.5 x 4.5 meters), a pendulum 26 ft long (8 meters) and a cuckoo 14 ft long, the Triberg cuckoo clock took five years to build and is an exact replica of an antique black forest mechanism.  Indeed, the massive size of this mechanism and cuckoo is exciting to watch.  Learn more.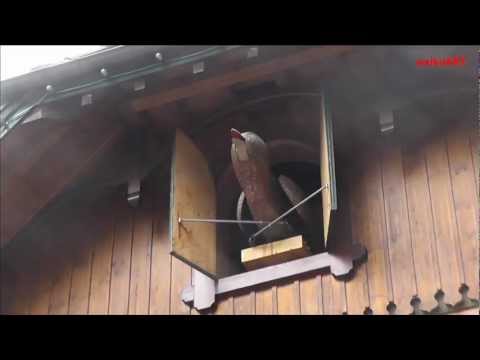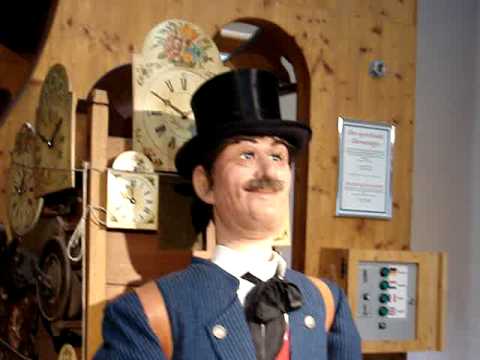 Sugarcreek, Ohio, USA. At 24 ft tall, it was built in 1972 and restored to its present state and location.  Perhaps the mechanism and cuckoo is not towering like the Triberg clock, but its dancing figures and five piece band gives it its own majesty.  So impressive, an Amish newspaper reported on the Sugarcreek clock: Take a look at the World's Largest Cuckoo Clock.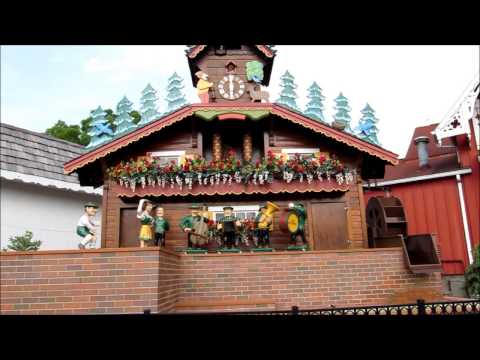 Herefordshire, UK. Not as large as the Triberg or Sugarcreek clocks, but notable about Britain's biggest cuckoo clock is that one man, Richard Pim, singularly constructed this water powered clock in his garden.
Honorable Mention.  There are several more around the world to take notice of:
Spain, in Eduardo Castex
Argentina, in La Falda
Argentina, in Villa Carlos Paz
Germany, also near Triberg
Germany, in Wiesbaden
I'm certain there are more, but this provides enough spotlight on the "quest" and interest around the world to build the bigger cuckoo clock.  It's really unimportant which one is the biggest.  Each one is exceptional in their own uniqueness and design.
What about other clocks built to a grander scale then normal?
Let us know in the comments if you're aware of any exceptional examples of brobdingnagian timepieces.
Don't forget to help support ClockOwner.com by Subscribing to our email list to receive free updates when new material is posted.  Thanks immensely!
Cheers and happy clockventures!
G Palos